Champion for Children Tax Credits
As you file your state tax return, you are allowed to "redirect" your tax dollars to help foster children through the Missouri Champion for Children Tax Credit. Your gift is a 50% tax credit, which is more valuable than a tax deduction. A tax credit will help you reduce your overall state tax liability and is not impacted by your tax withholdings during the course of the year*. CASA of Southwest Missouri is one of the organizations named under the state's Champion for Children Tax Credit. Many people do not understand the full advantage that tax credits provide.
Here's how to receive the 50% CFC Tax Credit: Make a donation to CASA of Southwest Missouri before midnight on December 31. To qualify for the CFC tax credit the minimum contribution is $100.
At the end of the year, you will receive an acknowledgment letter and tax credit application form with instructions. Tax credits may be applied to the tax year in which the donation was made or any portion of the tax credit not claimed may be carried over to the next four succeeding tax years. The credit is nonrefundable.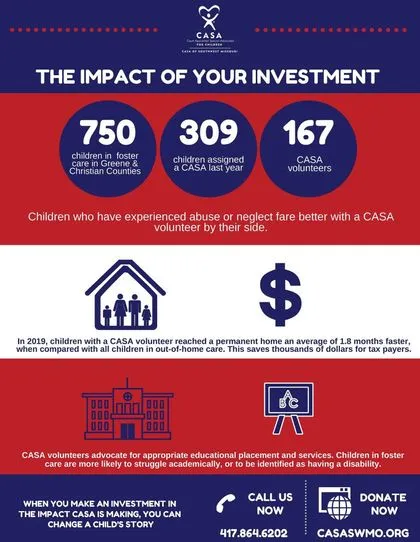 *Consult your tax advisor to see how you personally can benefit from this program.
Click here to donate online
What else are you curious about?
Join the CASA newsletter to be a part of how we're changing the community.
Drop your email here to sign up!