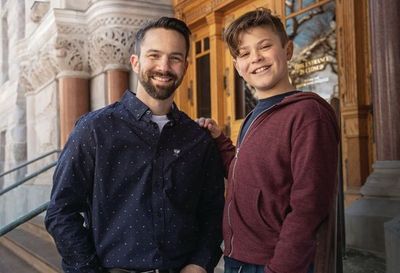 Change a Child's Story - that's what CASA volunteers do!
Even if you can't join us for CASAblanca, your gift can Change a Child's Story! 
In early 2019, Matt was assigned as the CASA for "Jackson", a 12-year-old boy. At the time, Jackson was living in a foster home and was so heavily medicated that he could not even work on a model airplane with Matt due to the extensive tremors his medication caused. Matt shared his observations and serious concerns with the case manager. When Matt attended court for Jackson, he advocated for a medication review and the Judge agreed. Upon review, it was discovered that Jackson was indeed being over-medicated and the doctor took him off most of the medication. Matt continued to visit Jackson in the foster home and noticed the lack of connection between the child and his foster parents. He encouraged the team to look at other foster home options that might be more well-suited for Jackson's specific needs. Research shows that when a child is above the age of 12 in foster care, it is more difficult to find a foster home, especially one that is willing to adopt an older child. Because Jackson was 12, Matt knew finding a permanent family may be difficult, but he did not give up! Earlier this year, Jackson moved in with his "forever family" and they are finalizing their adoption soon. He has continued to do well with his family, who connects with him and cares about his unique needs. Matt remains connected to Jackson and continues to play a huge role in his life. All kids need a caring, consistent adult in their lives. We are thankful for Matt's persistence and the consistent advocacy and mentorship he provided for Jackson.