Meet Captain Springfield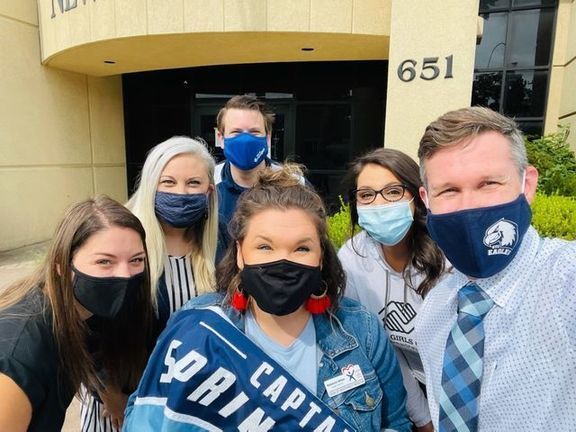 Our Program Director Rebecca Weber officially received her cape for Captain Springfield! We are so proud of her work and know that she'll use this platform to highlight great things about our community! Former captains include Boys and Girls Club's Brandy Harris, Victory Mission's Janelle Reed, OTC's Michael Underlin and Matt Simpson, and Representative Crystal Quade. What a powerhouse group to be associated with. Here's to our very own Captain Rebecca!!! We celebrate you!
---
Unsung Heroes - Conversations with Captain Springfield
Ashley Armstrong, Greene County Juvenile Officer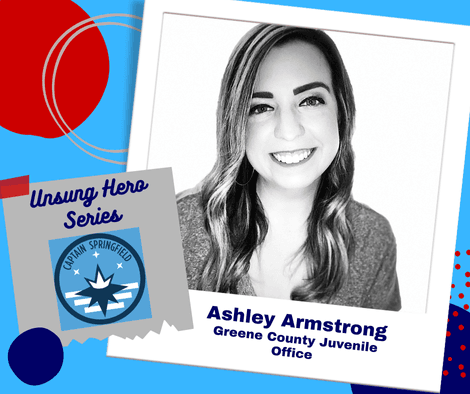 Captain Springfield is excited to spotlight Greene County Juvenile Officer, Ashley Armstrong, for the 2021-2022 Unsung Hero Series!
We want to thank Ashley for her incredible work in the foster care system! Get to know more about Ashley below here:
1. Why do you choose to work in the foster care system? I love the work I do in the foster care system because I enjoy helping children and families achieve their happy endings. Whether it be helping parents turn their lives in a positive direction and celebrating reunification or being a part of helping a child find their forever home, my passion is to help achieve the best outcome possible for each family.
2. What are some ways you would encourage others to get involved in the foster care system? If you're interested in getting involved in the foster care system, I would highly encourage you to do it. Whether it's through employment, volunteering, becoming a foster parent, or even just donating supplies or clothes for kids. No matter how big or how small, it matters.
3. What is your favorite memory, story, or success while working in foster care? Often, we work closely with families for a year or more until their case closes and we hope that the changes they made are lasting but we often don't get to know what happens after that. So, it is always welcomed when we do get pictures or updates from parents and adoptive parents. Recently, I got to hear from a parent who successfully graduated from our family treatment court program earlier this year and was reunified with her child. She emailed me to let me know that she is still doing well, just graduated from her college program with a 4.0, and even obtained a job in the social service field! It was a nice reminder of why I love the work I do.
Captain Springfield is encouraging EVERYONE to do SOMETHING! Find a way to make a difference today at www.casaswmo.org.
---
Laura Farmer, CASA Executive Director
---
Follow Captain Springfield on Twitter!