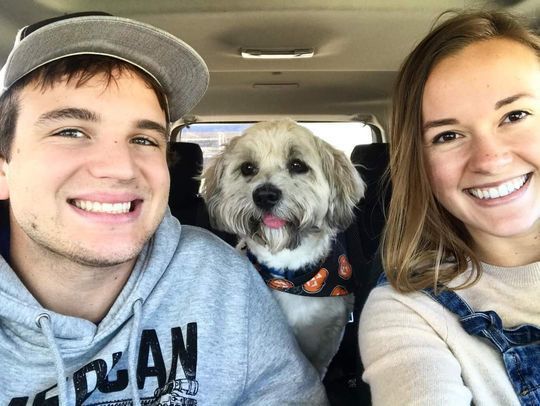 MEET HANNAH AND CLAY ELDRIDGE
Hannah and Clay Eldridge serve as a couple together on a case for a 10-year-old child in Greene County. They took advantage of online CASA training in March 2020 and then were assigned their first case in April 2020! The couple was inspired by family members that had adopted from foster care, so they got involved with CASA to make a difference in their own way too. They wanted to make an impact for a child in foster care and also be able to spend time together serving their community in a meaningful way. CASA was the perfect fit!
Hannah and Clay both have a heart for children and wanted to be there for a child that needed consistency during a scary phase of unknowns and change. They know that kids need a positive influence and to feel like they have someone in their corner that will not waver. The couple knows the impact they have made throughout 2020 because of the changes they have observed in their CASA child. From their first visit with the child, he barely spoke 3 words and didn't make eye contact. Now their visits are full of hugs, laughter, and a feeling of safety. Hannah shares, "To see how his heart has learned to trust adults again over the last several months because we keep showing up, tells us we are making a difference". The couple shares that his ability to build relationships with people has grown leaps and bounds and he seems like a different kid.
For anyone considering becoming a CASA, Clay and Hannah said there is really not a reason to doubt your ability to make a difference or delay getting involved. They explain that as a couple, the volunteer experience allows them time to spend together, but also allows them both the flexibility to attend meetings and court hearings together, or stand in for each other on occasion which is nice for full work schedules too. Another added benefit to jumping into the volunteer role is that the couple has learned a lot about themselves during their experience and have grown as a couple and as individuals.
Hannah and Clay got married in June 2019 and currently live in Mt. Vernon, Missouri. They have a dog named Grizzly that is spoiled beyond belief. Hannah works as a Program Technician with the USDA and Clay is a Software Development Project Manager at Joplin Stockyards. Together the couple enjoys hiking, mountain biking, and spending time with family. You can find Hannah in the kitchen or garden channeling her inner Joanna Gaines most Saturdays. Clay will often be found taking adventures that involve paintballing, dirt bikes, and big trucks! This young couple is a true inspiration for the younger generation to know that you always have the ability to do something to better the life of someone in need.  Hannah and Clay are both thankful for the time they have spent at CASA and look forward to continuing to make a difference in the lives of kids in the future.
Thank you, Hannah and Clay Eldridge, for making a difference and impacting local kids. We are honored to have you as part of the CASA team!
Want to make a difference? Be the ONE in 2021 for a child in foster care! Apply today at www.casaswmo.org.