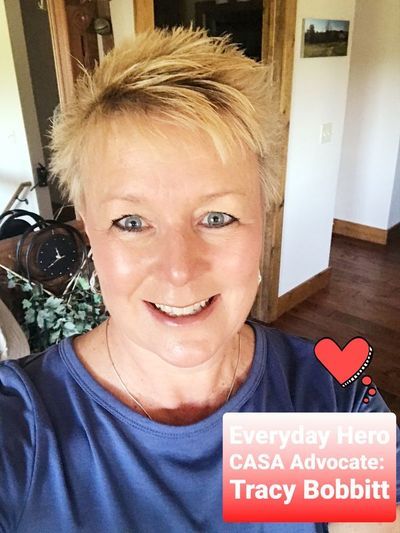 MEET

TRACY BOBBITT
Tracy Bobbitt has been a CASA Advocate for the past year! She is currently serving a case in Greene County. After learning about CASA, she knew that it was exactly what she wanted to do! She believes that children deserve a voice, but are often not heard by the individuals making decisions about their lives. Tracy wanted to stand in and be that person to make sure to be that person for children who don' get a voice, are afraid of speaking up, or don't know how to communicate their needs. Tracy feels like she has made a difference just by being a voice for them when they have needed it. I am able to give the children a trusted adult that they can count on and look forward to spending time with. Most of all, I give them someone that will listen to them and let them be themselves. For anyone wanting to be a CASA, Tracy says to JUST DO IT! You will not regret it and will be greatly rewarded by the impact you make.
Outside of being an AMAZING CASA Advocate, Tracy is married to her husband, Mac for almost 29 years. They have two sons, Dustin and Bryce. They have been blessed with two daughters-in-law, Lindsey and Alexandra. They also have a beautiful 2-year-old granddaughter named Ella. Tracy is a retired school teacher from Republic after 22 years of education as a Social Studies Teacher. Tracy and her husband now live on a farm and enjoy all that farm life has to offer! She enjoys reading, gardening (flowers and vegetables), canning, and tending to honey bees! They stay busy by harvesting and selling local honey from their farm in Conway, Missouri.
Thank you, Tracy, for being an Everyday Hero for children that need you! We appreciate all you do for CASA!
Want to know how you can make a difference in a child in foster care's life? Call us today at 417-864-6202!