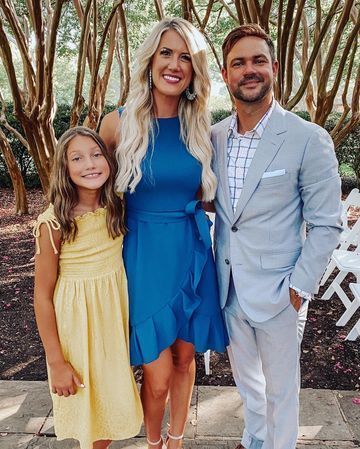 MEET

MEGAN SHEPHERD
Megan has been a CASA Advocate for the past year for a sibling group of 3 in Greene County. When she became a full-time "CEO of the house" she was looking for a meaningful volunteer opportunity and found CASA!
Megan shares, "I believe in the mission CASA represents and felt compelled to be involved once learning more about it. Many of the children we are appointed to are facing difficult and uncertain circumstances. To be a voice for the voiceless as well as a healthy and helpful outlet for young people who might otherwise not have one is a highly rewarding experience."
For anyone who is considering becoming a CASA, Megan says, "We may not be able to change the circumstances or the system these children are subjected to and governed by, which sometimes hurts. But we can become trustworthy confidants, and strong adult role models, and sometimes those things alone can help a child more than we could ever know."
Learn more about Megan's story below:
I became a single mother at just 21 years old. When my daughter, Journey, was 5 we met Richard, and almost instantly the three of us became a family. Now, Richard and I have been engaged for two years this month (October). A bit longer of an engagement than we had planned as we, unfortunately, had to postpone our wedding this Spring due to COVID-19. I'm so blessed to have such a selfless, hard-working, and thoughtful partner and role-model for my daughter, and for the relationship that they share together. Richard and I are so blessed to have such a sweet, smart, and loving daughter in Journey. About three years ago, the three of us rescued a stray Australian Shepherd who we named River. I like to think that when Journey and I met Richard we became a family, and when the three of us met River our house became a home. He has clearly been through a lot of trauma, but he loves us dearly and has become such a part of this family that we don't know what we'd do without him.
Work-Life:
I went to college and became a Dental Assistant. I took a break and went back to school to advance my career and become a Dental Hygienist. I have always been passionate about helping others and though Dental Assisting and Hygiene is a way to do that, it wasn't a field I was particularly passionate about.  I had pursued the Dental field to provide the best quality of life that I could as a single mother to Journey. With the support and encouragement of Richard, I took a new position on the executive team of Keller Williams where I fervently assisted the organization in its support of more than two hundred 417-area real estate agents and the families they were helping achieve their dreams of buying a new home. Richard manages a small technology firm in Springfield that keeps him very busy, yet as an entrepreneur, he had a more flexible job. Despite having a more significant workload than I, he often had to work strange hours to accommodate taking care of Journey, with school and extracurricular activities, or in tackling the mid-week errands that were needed. In early 2019, I was fortunate enough to be able to transition to being a full-time Mom, and as Richard calls it; "CEO of the House".
Hobbies/Interests:
My interests and hobbies include canoeing, hiking, painting, puzzles, live music, and traveling.
Want to know how you can make a difference in a child in foster care's life? Call us today at 417-864-6202!