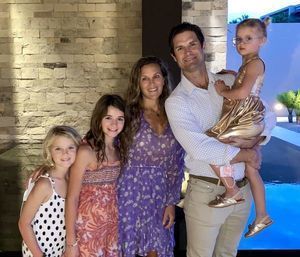 MEET SHANNON GREGG
Shannon is assigned to a sibling group of two boys and has been an incredible advocate. CASA is a legacy in Shannon's family, and we are thankful for her desire to be a difference-maker.
Why CASA?
When growing up, my dad was involved with CASA. At a young age, I remember him gently explaining the hardships of foster kids, describing how different their stories were from mine. Those moments made a lasting impression. As an adult, I kept reading about the tragic statistics of abused and neglected children in Greene County. When I started my own family, I looked at my three girls and considered what their stories would be like without anyone looking out for them. Their innocence and sweetness are so precious, and they're fortunate to have very blessed lives. I knew I needed to give back, and that's why I decided to get involved with CASA.
Shannon's CASA experience:
I finished my CASA training in January 2020 and was assigned a case in March (the week before Covid19 came to the Ozarks). I'm currently serving 2 boys: ages 5 and 2. This summer we were able to get outside, go to the creek, and play in the sprinkler at their home. They are currently placed with maternal grandparents, and I'm thankful they are in a safe and loving home. My duty is to look out for the children's wellbeing, always asking, "What is in their best interest?"  
When asked how she's made a difference and why you should get involved:
Being a CASA truly is an honor.  We all have busy lives but taking only a few hours each month to look after someone is a gift. You make time for things that are important, it's that simple. I encourage anyone that is able to get involved with their local CASA organization. The preparatory training is fantastic! You learn so much about your community, trauma, abuse, neglect, and healing. The advocate supervisors are awesome and with you every step of the way. Also, shout out to Judge Hosmer - I've been in his courtroom several times and the grace he shows is inspiring.  Greene County is lucky to have him, and he deeply values the CASA difference.
More about Shannon:
I love my time volunteering as a CASA.  I have 3 kids that keep me pretty busy! My hope is that along with my supportive, wonderful husband, we are raising 3 caring, confident, compassionate young ladies who will be equipped and hungry to help the less fortunate and lift others up. In my free time, I love to cook, read, walk, travel, do yoga, and spend time with family and friends. I love a good binger on Netflix too!
Shannon's Outlook: 
ALL children deserve to be cared for and protected. Children are so resilient. Even when suffering from trauma, they can heal. We all need positive, helpful people in our lives, and we all need to be willing to look after one another - that is what I hope I can do for children in our community. You can do the same by becoming a CASA!
"History will judge us by the everyday difference we make in children."- Nelson Mandela
Want to make a difference? Be the ONE in 2021 for a child in foster care! Apply today at www.casaswmo.org.