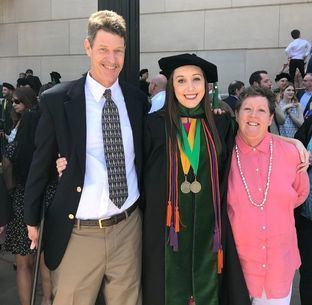 MEET MARIBETH COLLIER
Meet Everyday hero and CASA Advocate: Maribeth Collier! Maribeth has been a CASA for the last year and is currently serving an older youth in Greene County.
Maribeth shares her perspective on joining the CASA mission below: "I think being a CASA has helped me to be more empathetic and less judgmental of others. I think most parents love their children, but because of their situations and past experiences they may need help figuring out how to provide a safe, stable, loving environment for them. Being a CASA also helps me to feel useful and connected to others, which is something I missed after retiring. I became involved with CASA after working 19 years as a Speech-Language Pathologist for Springfield Public Schools. During my time with SPS, I saw many children who sought positive attention from a caring adult. So, when I retired, one of the first things I did was to sign up for CASA training.  My first case began one year ago. My CASA child is an older youth in high school, and this is her second time in care (first time with a CASA). One of the most rewarding aspects of being a CASA has been getting to know her, her family, and helping use her voice. Her case is not straightforward, but slowly and surely, my advocacy is making a difference. I would encourage anyone who is thinking about becoming a CASA to sign up for the training. I usually spend 4-8 hours per month on CASA activities (child visits, virtual trainings, or report writing, etc.). Don't panic – I don't do all of these activities every week! I make scheduling my child visits a priority and schedule the rest of my activities around my priorities. Being retired definitely helps, but I think almost everyone could find the time with a little forethought and planning. I also work part-time as a substitute for Penmac Educational Staffing, volunteer one afternoon a week as a barn worker and groomer for Dynamic Strides Equine Therapy, and still have time to read, ride my bike, and see my friends.
In addition to serving, I find joy in my own family. I have been married to my husband, Randy, for almost 31 years! We have one daughter, Liz, who is completing her medical residency in Norfolk, Virginia, where she lives with her husband Scott who is currently serving in the U.S. Navy. We are really looking forward to seeing family this Easter too!
Thank you, Maribeth, for your consistency and care for our community's most vulnerable children. You are making a difference!